Welcome to the home of Altrincham & District Referees
Altrincham & District Referees' Society is the local branch of the Referees' Association. Our members include referees serving all levels of the game, from junior grass roots matches through to FIFA international matches. This range of experience is of great benefit to all members of the society as we help each other to improve and develop.
We meet once per month, running an outdoor training & development session led by FA Referee Tutors, followed by an indoor session covering a variety of topics during the season. In between the two sessions we have time for food and networking! Our programme includes training from Premier League and Football League officials, and is designed to be of benefit to referees from all levels.
We also work closely with the Altrincham & District FA, and many of our members give their time to observing, mentoring and tutoring referees to aid their development.
Latest News
We were delighted to be able to hold our delayed centenary celebration on 28th May 2022 at the Cresta Court Hotel in Altrincham. Two years later than planned due to Covid restrictions, we welcomed 200 guests to an evening of awards presentations, dinner and dancing.
The commemorative Centenary Celebration programme can be viewed/downloaded in PDF format here.
We are delighted to announce that our Young Referee of the Year for 2021 is Ruby Sykes. The award was in recognition of the outstanding year that Ruby had on the field, including promotion to Level 3W and some notable appointments on the Women's pathway, plus her off-field support to fellow ADRS members in the form of mentoring some of our trainees.
The trophy was presented by ADRS President, Steve Johnson.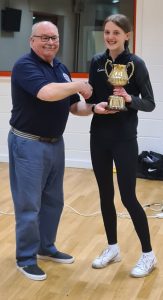 We were delighted to be able to send an amazing £1,230 to Trafford South Foodbank which was raised during December by our members, their families and friends. The fundraising effort replaced our usual Christmas Raffle and enabled the Society to give something to the community during an exceptionally difficult time for many people.
Trafford South Foodbank is part of The Trussell Trust.