Welcome to the home of Altrincham & District Referees
Altrincham & District Referees' Society is the local branch of the Referees' Association. Our members include referees serving all levels of the game, from junior grass roots matches through to FIFA international matches. This range of experience is of great benefit to all members of the society as we help each other to improve and develop.
We meet once per month, running an outdoor training & development session led by FA Referee Tutors, followed by an indoor session covering a variety of topics during the season. In between the two sessions we have time for food and networking! Our programme includes training from Premier League and Football League officials, and is designed to be of benefit to referees from all levels.
We also work closely with the Altrincham & District FA, and many of our members give their time to observing, mentoring and tutoring referees to aid their development.
Latest News
We are delighted to announce that our Young Referee of the Year for 2021 is Ruby Sykes. The award was in recognition of the outstanding year that Ruby had on the field, including promotion to Level 3W and some notable appointments on the Women's pathway, plus her off-field support to fellow ADRS members in the form of mentoring some of our trainees.
The trophy was presented by ADRS President, Steve Johnson.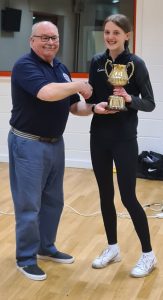 We were delighted to be able to send an amazing £1,230 to Trafford South Foodbank which was raised during December by our members, their families and friends. The fundraising effort replaced our usual Christmas Raffle and enabled the Society to give something to the community during an exceptionally difficult time for many people.
Trafford South Foodbank is part of The Trussell Trust.
Altrincham's Anthony Taylor will become the first person for 120 years to referee a second FA Cup Final after he and his team were appointed to this year's showpiece.
Speaking to The FA, Anthony said "Of course, any Final is obviously a huge honour and privilege for the whole team to be doing and I sincerely mean that about the team because I'm in the fortunate position where I get to work with the same two assistants on every game both at home and abroad.
"It's just an iconic occasion at the best of times, but this year is a unique one with no spectators. We know there are different circumstances this year and the 2020 Final will always be remembered because of this.
"But it was a little bit unexpected to get the call, having already refereed the FA Cup Final a couple of years ago, so I'm very humbled and equally honoured to have been asked to take charge of the Final again.
"It's ironic that it's the same clubs, but it's now two different teams. Clubs who reach the Final don't get there by fluke, and whichever teams end up in the FA Cup Final, it's always going to be an intense occasion to officiate.
"However, any official who has refereed the FA Cup Final will say that when you're appointed to the game, it's not just recognition for you as an individual, it's a recognition for all of the people who've supported you over the years and helped you to reach the elite level.
"That's what makes the occasion so special, not just the match but that you get to share it with your close friends and family who will be there supporting you. Obviously, that's not going to be possible this time, but there's other ways and means that friends and family can be supporting us on the day."
We wish the full team of Anthony, Gary, Adam, Chris, Lee, Stuart and Steve the best of luck.