Welcome to the home of Altrincham & District Referees
Altrincham & District Referees' Society is the local branch of the Referees' Association. Our members include referees serving all levels of the game, from junior grass roots matches through to FIFA international matches. This range of experience is of great benefit to all members of the society as we help each other to improve and develop.
We meet once per month, running an outdoor training & development session led by FA Referee Tutors, followed by an indoor session covering a variety of topics during the season. In between the two sessions we have time for food and networking! Our programme includes training from Premier League and Football League officials, and is designed to be of benefit to referees from all levels.
We also work closely with the Altrincham & District FA, and many of our members give their time to observing, mentoring and tutoring referees to aid their development.
Latest News
We are delighted to announce that our Young Referee of the Year for 2018/19 is Matt O'Shea. The award was in recognition of the work Matt did for the Society, the time he gave in mentoring our Trainee Referees, and for an outstanding on-field season which ended with promotion to Level 4 and appointments to the CCFA Youth and Minor Cup Finals, the ADFA Sunday Senior Cup Final, and selection for the Iber Cup in Portugal.
The trophy was presented to Matt by Premier League Referee Peter Bankes.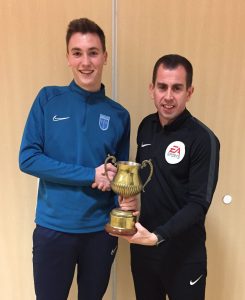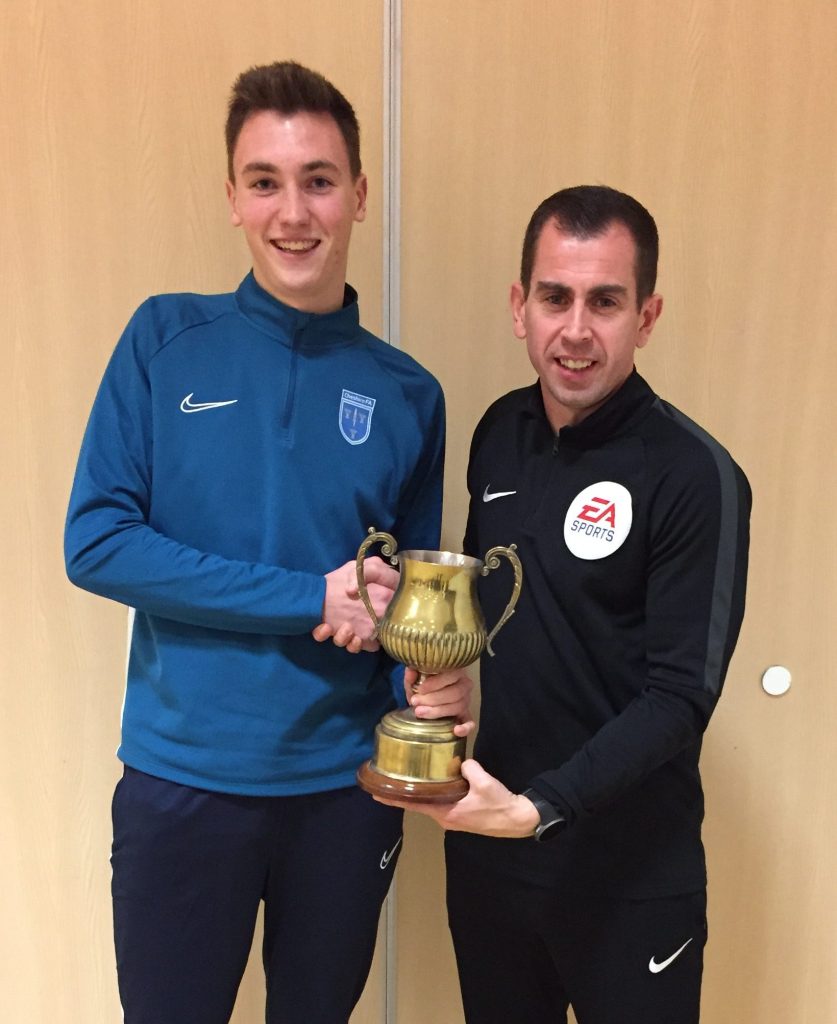 We're excited to announce the launch of our 2019 Christmas Raffle!  This annual event is our main fundraiser, enabling us to provide training and development opportunities to our referees throughout the year.  All support is greatly appreciated.
Entries can be made online via our JustGiving page … Click Here!
One ticket will be put into the draw for every £2 given … please remember to provide your contact details so that we can get in touch if you win a prize!  Prizes include a PS4 (with FIFA20), a Fitbit Charge 3, an Amazon Fire 8 Tablet and many more!

Please share with friends, family and colleagues.  Every ticket sold helps us to improve the standard of refereeing in the district.
The draw will take place at our meeting on Thursday 19th December, starting from 19:30.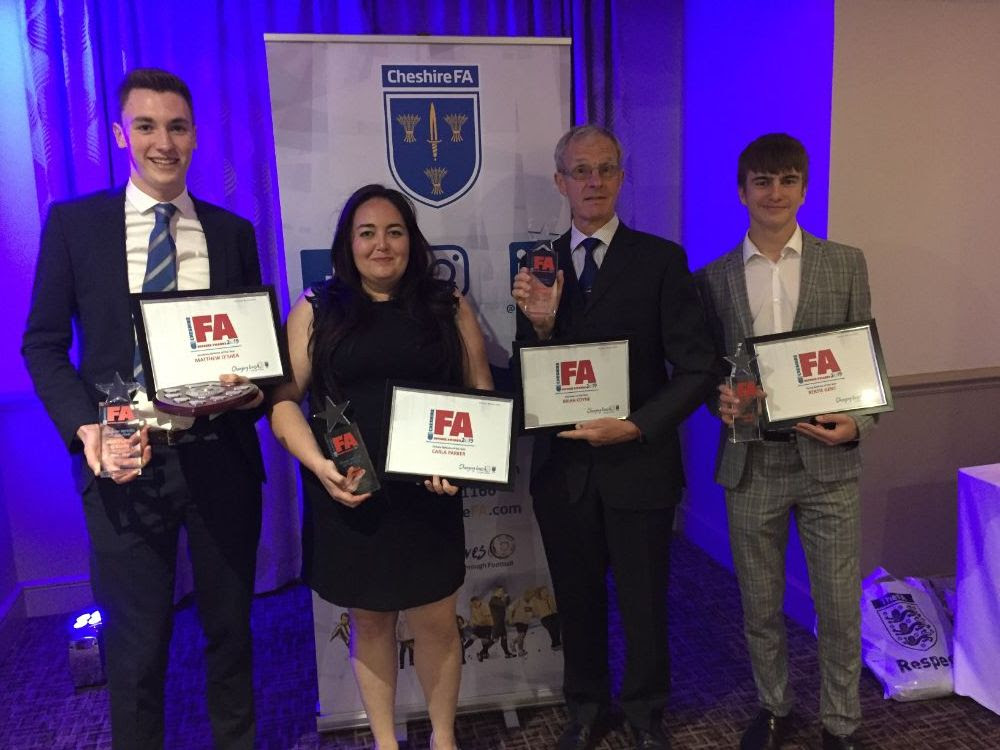 The celebration of success in Altrincham continued at the Cheshire FA Referee Awards 2019, where 4 of the 8 season awards were presented to ADRS members.
The winners, presented with their awards by Premier League and FIFA referee Chris Kavanagh, were:
Matt O'Shea : Academy Referee of the Year
For his dedication and performance throughout the season, adding to his Cheshire County FA Match Official of the Year award in the 2019 FA & McDonald's Grassroots Awards.
Carla Parker : Female Referee of the Year
For her successful season on the field and her off-field efforts to help women's football and refereeing in Cheshire.
Brian Coyne : Volunteer of the Year
For his contribution to the continued development of referees throughout the County, and in particular within the Altrincham District.
Bertie Gent : Young Referee of the Year
For his commitment and dedication to refereeing, his willingness to seek advice and learn from others, and his excellent on-field performances.
We're exceptionally proud of all our members, both as referees and for the support network provided to each other.
Well done everyone!