Welcome to the home of Altrincham & District Referees
Altrincham & District Referees' Society is the local branch of the Referees' Association. Our members include referees serving all levels of the game, from junior grass roots matches through to FIFA international matches. This range of experience is of great benefit to all members of the society as we help each other to improve and develop.
We meet once per month, running an outdoor training & development session led by FA Referee Tutors, followed by an indoor session covering a variety of topics during the season. In between the two sessions we have time for food and networking! Our programme includes training from Premier League and Football League officials, and is designed to be of benefit to referees from all levels.
We also work closely with the Altrincham & District FA, and many of our members give their time to observing, mentoring and tutoring referees to aid their development.
Latest News
We are delighted to announce that our Young Referee of the Year for 2017/18 is Charlotte Phillips. Charlotte ended an outstanding season with appointments as Referee for a County Cup Final and 4th Official for a National Cup Final. In addition, Charlotte volunteered some of her time during the season to mentor trainee referees and serve on the ADRS Committee.
The trophy was presented to Charlotte by Premier League and FIFA Referee Michael Oliver.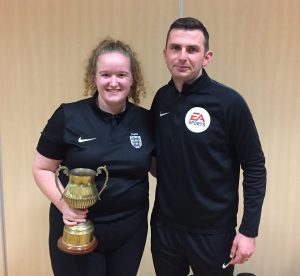 Details have been announced for the next local New Referee Course to be run by Cheshire FA.
Price: £130
Venue: South Manchester Sports Club, St Anne's Road North, Heald Green. SK8 4RZ
Day 1: Monday 22nd October 9-5pm
Day 2: Tuesday 23rd October 9-5pm
Next steps event: Wednesday 24th October 7.30-9.30pm @ Altrincham FC
Register your interest: RefereeCourses@CheshireFA.com