Welcome to the home of Altrincham & District Referees
Altrincham & District Referees' Society is the local branch of the Referees' Association. Our members include referees serving all levels of the game, from junior grass roots matches through to FIFA international matches. This range of experience is of great benefit to all members of the society as we help each other to improve and develop.
We meet once per month, running an outdoor training & development session led by FA Referee Tutors, followed by an indoor session covering a variety of topics during the season. In between the two sessions we have time for food and networking! Our programme includes training from Premier League and Football League officials, and is designed to be of benefit to referees from all levels.
We also work closely with the Altrincham & District FA, and many of our members give their time to observing, mentoring and tutoring referees to aid their development.
Latest News
For the first time since 2014, we returned from the Cheshire RA Quiz with a trophy! It's the trophy for 2nd place, but it still counts.
The hastily thrown-together team of Mike Ransome, Tom O'Brien and Stephen Brown dipped into some random trivia knowledge to triumph over everyone except one of the Stockport teams, who were worthy winners … again!
Time to start revising for 2020 …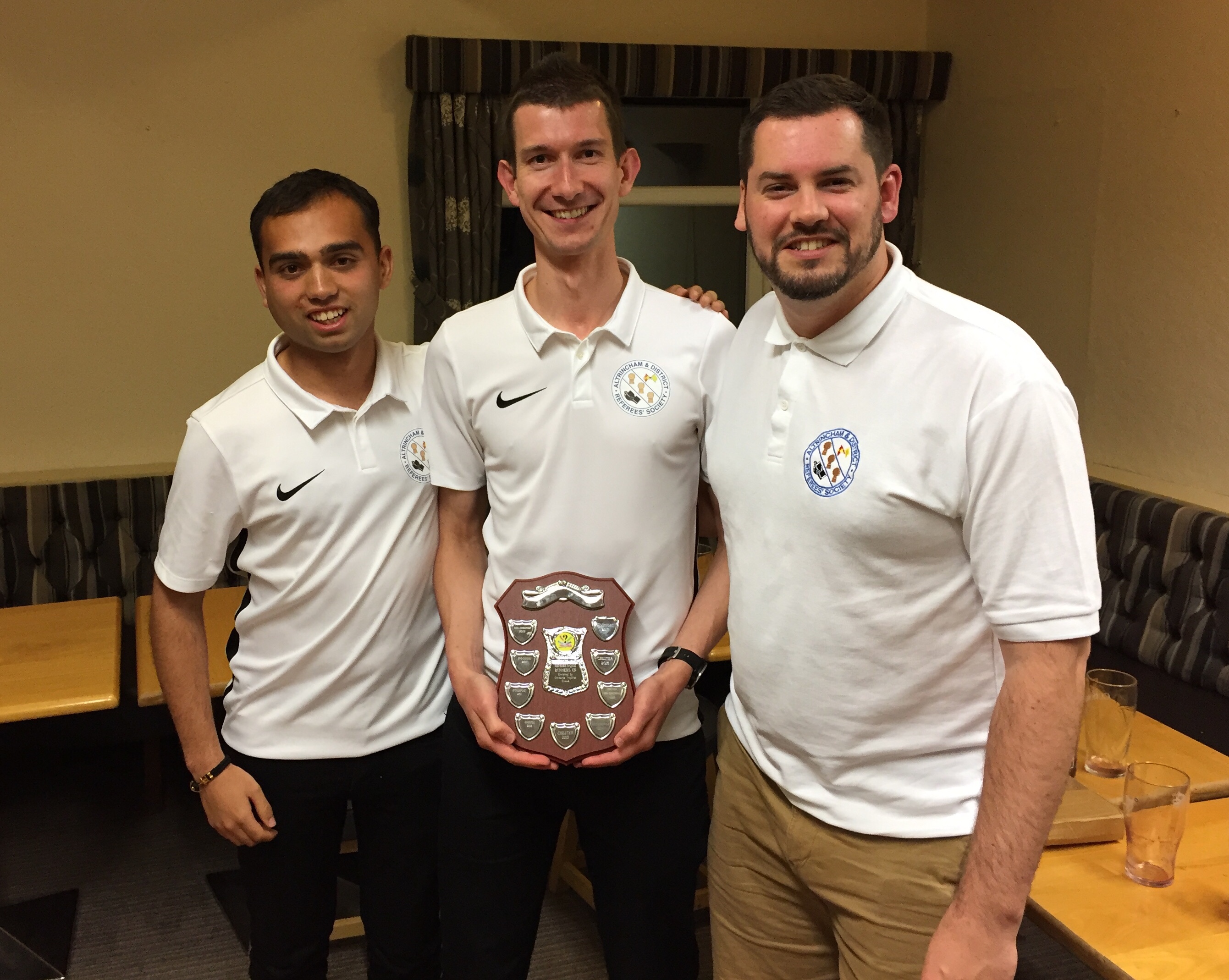 Congratulations to all officials on the following appointments to the 2018/19 Altrincham & District FA Cup Finals:
ADFA Senior Cup Final
Referee: Oliver Chow
Assistant Referees: Tom O'Brien and James Memory
Fourth Official: Graham Anderson
Tie to be played on Thursday 18th April, 19:30 at Altrincham FC.
ADFA Sunday Senior Cup Final
Referee: Tom Cassidy
Assistant Referees: Matthew O'Shea and Mikolaj Mars
Fourth Official: Alex Phillips
Tie to be played on Tuesday 23rd April, 19:30 at Altrincham FC.
A huge thank you to all the individuals and companies who donated prizes to our 2018 Christmas raffle, and of course to everyone who purchased tickets. The funds raised make a massive positive impact to the training and development opportunities for referees in the Altrincham & District area.
The draw was conducted during the December meeting and the full list of prizes and winners can be viewed by clicking here.