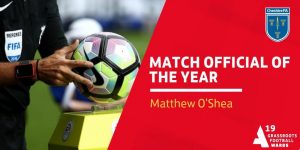 We're thrilled that member (and new Treasurer) Matt O'Shea has been named as Cheshire County FA's Match Official of the Year in the 2019 FA & McDonald's Grassroots Awards.
CCFA cited Matt's "fantastic attitude to learn and develop" as well as the dedication shown by travelling back from Nottingham to midweek Cheshire FA CORE meetings.
"I am delighted to receive the CCFA Match Official of the Year award and would like to thank everyone from Cheshire FA and Altrincham & District Referees' Society for their help, support and guidance throughout the season", said Matt. "Being part of Cheshire FA's CoRE and attending the regular meetings has helped me to add the additional 1% improvements into my game with a particular focus on fitness and positioning; whilst also highlighting additional improvements I need to make to my game to be successful at Level 4 and hopefully further.
In addition, regularly attending the monthly meetings at ADRS has added a social element into refereeing with people I am often on games with. This has also improved my game as we regularly discuss clips from games and incidents from our own games to get different viewpoints and to learn from experiences. This social element has been particularly important as I've had some of my toughest games this year with colleagues from ADRS! Also, having guest speakers at the meetings, such as Michael Oliver, has allowed me to learn from experienced referees at the top of their game. ADRS has also added 1% improvements to my game on a wider focus such a pre-season preparation and having a full understanding of the observation criteria."